Happy New Years from everyone at Eby's Drafting and Design! Hopefully you've had a wonderful holiday season. The start of a New Year puts a fresh start, a clean slate, 'out with the old in with the new,' decluttering, and removing chaos on my mind. A common problem, though, is not knowing where to start. This can leave us feeling very overwhelmed, a feeling I'm sure you can relate to. We will be sharing a mini-series on organizing a few areas in your home that can easily become overwhelmed with clutter and extra "things" that make us feel stressed.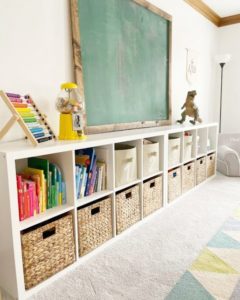 First up, we have the toys. So many new toys come into the house over the holidays. Finding new homes for them can be very daunting. Christmas season is the perfect time to go through old toys and trash the broken ones and donate the ones that aren't of use any longer. This will clear up space for your new items! Simple shelving units, as shown above, create the easiest system for storage. This is also more inviting for kids to have their own space or nook while keeping the area pleasing to the eye.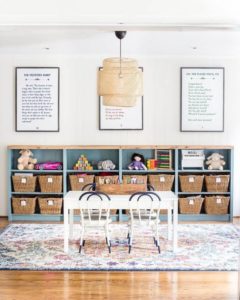 Not everyone is blessed with a separate toy room, so we have to be creative with finding storage that is beautiful but still practical. We are in love with these beautiful built-in shelving units that are perfect for hiding the kid's toys and displaying art or décor on the shelves. (aka the more plants, the better!)
When I was a kid, we had a playroom under our steps where we spent countless hours playing house and reading. This is not a very hard project to complete and the extra space you found in your house would be well worth it. Even as an adult, I would love to have this area in our home! This space can also grow with your children by changing from a play area to a book nook.
Now I'm off to incorporate some of these ideas into our home, and organize after the chaos of the holidays. As always, we look forward to hearing from you, and hope to be helpful with any needs you may have while designing you perfect home!